HB Attorney Profile: Catherine Y.N. Gannon
05/14/2018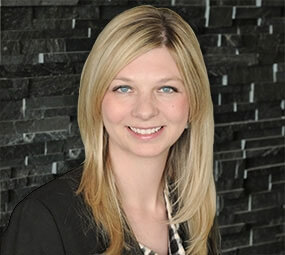 Tell me about a case you are working on.
I recently worked on a case involving the use of technology in vehicles. Our clients told us that a particular in-vehicle infotainment system was so defective that it constantly distracted them from the road. They explained that having to pay extra for a feature that actually made driving harder on a daily basis was unsafe and fundamentally unfair. We decided to test the system source code and found major defects that not only were present on the very first day the system was sold, but also went unrepaired for years. We also conducted a series of real-life road tests that scientifically confirmed that the system was taking people's eyes off the road (and hands off the wheel) for significantly unsafe amounts of time. The defendant threw everything they had at us over the five-year long case; but we ultimately persevered and reached a preliminary settlement that has the broad support of the class representatives.
I really enjoyed working on that case because it brought in a lot of public policy elements that are quite topical today. In an era of increasing driver automation, we were able to send a message to auto manufacturers that safety should still be their paramount concern. We also reinforced their responsibility to the public to only bring to market products that are fully tested and proven to be reliable for consumers.
What's something about practicing law that you didn't learn in school?
The importance of relationships and working as a team. The type of work we do is cutting edge, which often means pushing back hard against the status quo. The only way to succeed like we do is to have a team of professionals who are committed to what they do and can think creatively to overcome significant obstacles. It's impossible to do this type of work alone. I have great respect for the professionals I work with on our cases and am deeply grateful for their hard work, dedication, and ingenuity in getting the job done.
What's something Steve taught you during your casework with him?
Steve always sees the big picture and is a great motivator. Sometimes in the larger litigation cases we take on, it's easy to get lost in the weeds of a particular discovery fight or an upcoming argument. Steve has seen it all and therefore doesn't stress the small stuff. So that's a helpful example to have. And when you feel stuck at times, he helps you get through it by encouraging you to refocus your energy back to the heart of your case and the people you are helping.
How is HB different than other firms?
Simply put, HB takes on cases that matter. I'm proud to be part of a team that strives to be a true leader in bringing innovative cases that make a difference to the lives of millions of people. Some of our work includes: fighting to reduce the price of EpiPens and insulin; forcing sports organizations to implement binding concussion protocols; putting safety and environmental features on millions of cars; recovering millions of dollars on behalf of abused children and veterans; and teaming up with local governments to help them take on large companies breaking the law in their communities. These are big cases that present significant legal and intellectual challenges, but also bring about significant positive change when we succeed. HB isn't afraid to face these challenges head on while standing shoulder-to-shoulder with our clients.