Amtrak crash survivor has to give up dream of being police officer due to injuries
05/14/2019
Contact Us
Now 25 and disabled, the military police officer faces discharge from the Air Force due to her injuries in the Amtrak crash.
Drew Mikkelsen - May 13, 2019
SEATTLE — Tiffani Vincent had her whole life planned out.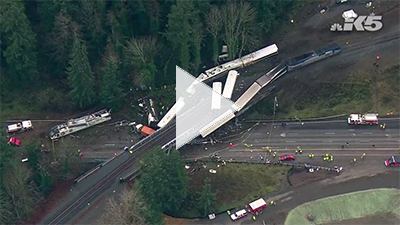 Following her career as an Air Force military police officer, she hoped to work for a civilian police department.
"Unfortunately the accident put a halt to that," said Vincent.
Vincent was 23 in December 2017 when an Amtrak train crashed onto her car as she was driving south on Interstate 5 near DuPont.
Three of the train passengers were killed, and more than 50 others on board and on the freeway below were injured.
Vincent remembers seeing something white before she blacked out. Seconds later she woke up and couldn't move.
"I was seeing blood run down and drip down on the dashboard," said Vincent, who suffered a broken back, broken toes and bruises and scratches all over her body.
Paramedics had to use the jaws of life to remove her from the wreckage.
"I remember an individual from one of the vehicles behind me had run up and started saying, 'Oh my God! She's alive!'" said Vincent. read more »