09/27/23 | Motion to Dismiss Denied in Part, Granted in Part
U.S. District Judge Jeffrey S. White ruled that plaintiffs plausibly allege that Apple has used its monopoly over the tap-and-pay mobile wallet market to charge issuers artificially inflated fees through Apple Pay policies and agreements. Judge White deemed plaintiffs' allegations sufficient to pursue a claim, stating, "Plaintiffs have plausibly alleged antitrust standing" that "results in injury to issuers and artificially inflated transaction costs." Judge White dismissed plaintiffs' claim that Apple unlawfully tied iOS devices to Apple Pay, but the remainder of the claims in the case will be allowed to proceed. Hagens Berman's Steve Berman said of the decision, "There are billions at stake for the class, so it's great to get going on their behalf."
Do you issue payment cards enabled for use in Apple Pay? Apple may violate federal antitrust laws via the fees you pay and other anticompetitive policies. Fill out the form to find out your rights to potential compensation »
Court
U.S. District Court for the Northern District of California
Case Number
5:22-cv-04174
WHAT'S THE ISSUE?
Hagens Berman's antitrust legal team has revealed what it believes to be highly anticompetitive practices under Apple Pay policies. The firm has filed a class-action lawsuit accusing Apple of intentionally monopolizing the billion-dollar mobile wallet market on iOS platforms, forcing payment card issuers to pay supracompetitive fees and stifling mobile wallet innovation.
Payment card issuers may have rights to reimbursement for fees and other damages, and if you believe your business was harmed, fill out the form regarding this lawsuit to learn more.
HOW DOES APPLE PAY FUNCTION DIFFERENTLY THAN OTHER MOBILE WALLETS?
Apple already dominates the smartphone, tablet and smart watch device markets, and has also sought to use its market power in the mobile wallet market. Mobile wallets allow users to make "tap-and-pay" payments by holding their smart device near a merchant's payments terminal. Unlike other digital wallets available on Android devices – Google Pay and Samsung Pay, among other providers – Apple requires that consumers of its mobile devices also use its mobile wallet, Apple Pay, to the exclusion of all competitors offering nearly identical services.
On Android's platform, the decades-old technology that allows for tap-and-pay is available across payment providers and device manufacturers.
On all of Apple's iOS devices, Apple's own proprietary service is the only option. This is not because Apple made a better product, but because Apple chooses to block competition against Apple Pay. Payment card issuers – those who provide credit cards, debit cards, prepaid cards, transit cards, and any other cards linked to a depository account – face the brunt of Apple's anticompetitive behavior.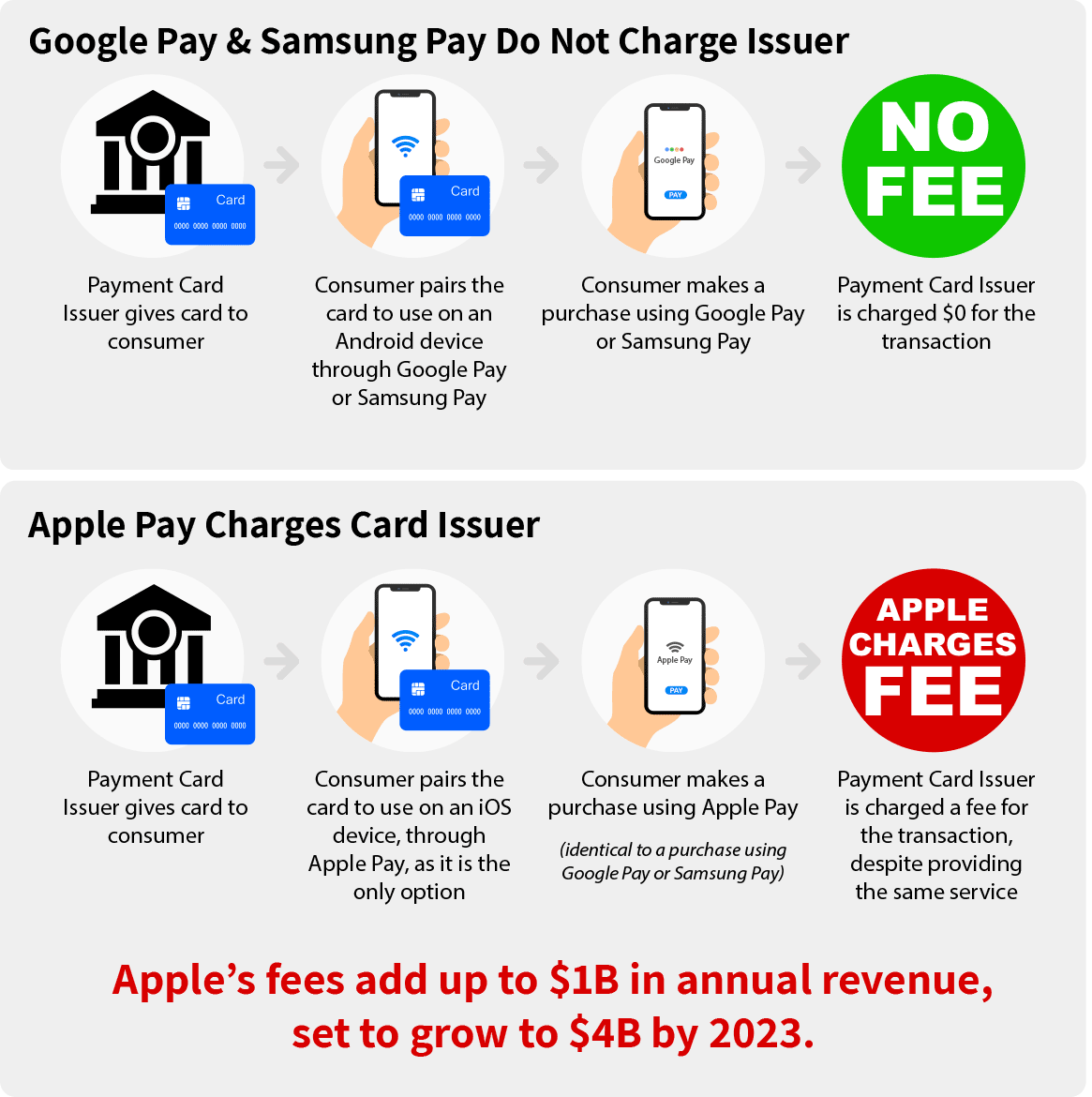 APPLE PAY'S ANTICOMPETITIVE POLICIES
With tap-and-pay competition barred on iOS devices, Apple charges payment card issuers fees that no other mobile wallets impose and imposes other stifling policies onto payment card issuers:
Whenever an Apple Pay transaction is completed on a U.S. issuer's card, the issuer must pay Apple a fee – 15 basis points on credit and .5 cents on debit. These fees reportedly generate Apple $1 billion annually, and this same service on Android wallets costs payment card issuers $0. This revenue stream – earned entirely on the backs of issuers – is predicted to quadruple by 2023.
Apple has further cemented its market power by preventing issuers from passing on Apple Pay's fees. 
YOUR RIGHTS AS A PAYMENT CARD ISSUER
Hagens Berman's lawsuit seeks to recover losses payment card issuers may have suffered due to the anticompetitive policies and practices within Apple Pay. Our law firm believes in keeping marketplaces free and fair, and we believe Apple's practices violate federal antitrust laws in two ways:
Apple has unlawfully tied two of its products together – its mobile devices and its mobile wallet – by compelling iOS users to use its mobile wallet product exclusively and foreclosing rival iOS tap-and-pay solutions.
Apple unlawfully monopolizes the market for tap-and-pay mobile wallets on iOS. While issuers pay $0 when their cardholders use Android wallets and pay $0 when their cardholders use contactless cards, Apple rakes in billions of dollars from fees from tap-and-pay payments on its platform.
If these anticompetitive practices did not exist, innovation would improve transaction security and other aspects of mobile wallet technology. The number of cardholders would increase due to lower fees, and more merchants would accept those cards, allowing transactions to also increase. We believe Apple's behavior has a significant negative impact on this market, on businesses and on consumers.
HOW CAN A CLASS ACTION HELP?
A class-action lawsuit can seek repayment for payment card issuers for related losses due to Apple's potential antitrust violations, including fees and other potential damages. Class members may have other claims against Apple for its intentionally anticompetitive behavior that has harmed the market and has likely been motivated by greed and profit. The lawsuit also seeks injunctive relief ending Apple Pay's harmful practices.
TOP ANTITRUST LAW FIRM
Hagens Berman is one of the most successful consumer litigation law firms in the U.S. and has achieved more than $320 billion in settlements for plaintiffs in lawsuits against Big Tech, retailers and others. The firm has secured major antitrust victories specifically against Apple, including a combined $560 million settlement against Apple and publishing companies regarding price-fixing of e-books, and in 2022, a $100 million settlement on behalf of iOS developers who were harmed by Apple's stifling App Store policies. Your claim will be handled by attorneys experienced in antitrust law.
NO COST TO YOU
There is no cost or fee whatsoever involved in joining this lawsuit. In the event Hagens Berman or any other firm obtains a settlement that provides benefits to class members, the court will decide a reasonable fee to be awarded to the class's legal team. In no case will any class member ever be asked to pay any out-of-pocket sum.
FAST FACTS
Apple has 100% market control over tap-and-pay iOS mobile wallets – a perfect monopoly.
More than 70% percent of Americans using mobile wallets
As of Q1 2022, Apple's iPhone has 51% of the smartphone market.
As of June 2022, Apple's iPad has 53.9% of the tablet market.
The mobile wallet industry is worth $1 trillion, with an estimate that it will continue to grow exponentially.
$1 billion in fees are generated annually for Apple through its anticompetitive Apple Pay fees revenue stream.
Apple Pay charges payment card issuers on credit transactions a fee rate of 15 per $100. The equivalent costs $0 through non-iOS/Apple systems on Android.
Apple Pay charges payment card issuers on debit transactions a fee rate of 5 per $100. The equivalent costs $0 through non-iOS/Apple systems on Android.
There are 5,480 banks worldwide issuing payment cards through Apple Pay.
The switching cost to a consumer for moving from an iPhone to Samsung device is estimated to be $80, illustrating Apple's grip on its device users.