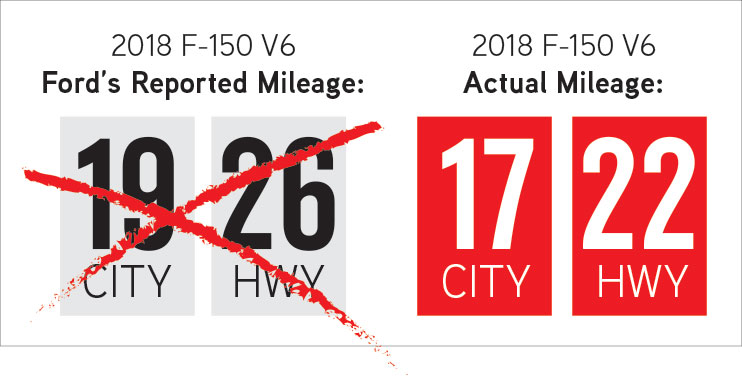 Court
U.S. District Court for the Eastern District of Michigan
Case Number
19-cv-11319-RHC-APP
According to recent reports, 2018-2020 Ford F-150 trucks and 2019-2020 Ford Ranger trucks do not achieve the fuel economy ratings posted on the window stickers and advertised by Ford. This could be costing you extra in vehicle fuel and lead to drastically reduced MPG and higher emissions levels. Owners may be paying up to $2,000 more in fuel over the lifetime of their affected vehicle.  If you own a Ford truck, fill out the form to find out your consumer rights to compensation.
AFFECTED VEHICLES
2019-2020 Ford Ranger trucks

2018-2020 Ford F-150 trucks

Possibly other Ford models and model years
The class-action lawsuit filed against Ford seeks to represent all owners and lessors of 2018-2020 Ford F-150 trucks, 2019-2020 Ford Ranger trucks and other affected vehicles. The F-150 is similarly failing to measure up to its advertised mileage, and we believe owners of Ford F-150 trucks are overpaying fuel costs due to the trucks' failure to comply with federal regulations. The lawsuit states that the class of Ford truck owners is likely to be expanded and could potentially include all Ford vehicles certified for sale in the U.S. for a number of years.
FORD'S DECEPTIVE MARKETING
Ford used the fuel efficiency ratings as a selling tool to entice consumers into purchasing the 2019 Ford Ranger claiming that it "is the no-compromise choice for power, technology, capability, and efficiency." Ford knew that to sell the Ranger, it had to tout it had fuel-efficiency, and a promise that was important to consumers. We believe it similarly marketed its F-150 trucks.
The suit says Ford deceived consumers in calling its Ranger "fuel efficient," and that without manipulating its testing procedures and ignoring common road conditions, Ford could not achieve the fuel economy and range it promised, meaning Ford owners end up paying more for fuel.
ABOUT THE TESTING
The lawsuit states that Ford deliberately miscalculated and misrepresented factors used in vehicle certification testing in order to report that its vehicles used less fuel and emitted less pollution than they actually did. The certification test related cheating centers on the "Coast Down" testing and "Road Load" calculations.
Coast Down testing measures the forces working against the vehicle by driving it up to speed, and then shifting to neutral, allowing it to coast down, being slowed by forces such as wind resistance, rolling resistance of the tires, and other forces working against the vehicle.
Ford miscalculated "Road Load," which is a measure of those forces, defined as the force that is imparted on a vehicle while driving at a constant speed over a smooth, level surface from sources such as tire rolling resistance, driveline losses, and aerodynamic drag.
This measure of forces acting against the vehicle during real-world driving is critical to the simulation of actual driving when a vehicle is tested in the laboratory. Ford's internal lab tests did not account for these forces, which lead to better—and entirely inaccurate—fuel economy projections, and claims that the vehicles emitted less pollution than they emitted in reality.
YOUR CONSUMER RIGHTS
Hagens Berman believes Ford owners have the right to reimbursement for the premium price they paid for what they thought was a powerful, efficient and emissions-compliant option. Ford's cheating renders these trucks out of compliance with federal regulations. Simply put, thousands of consumers did not receive what they paid for, and purchased their Ford Ranger or Ford F-150 under what we believe is false information that led them to paying more for fuel.
TOP AUTO LITIGATION FIRM
Hagens Berman is one of the most successful auto litigation law firms in the U.S. and is presently leading nationwide cases against Ford, Volkswagen, GM, Mercedes and Fiat Chrysler for use of emissions-cheating software. Our firm's independent research outpaces even government agencies, and we are the only firm dedicating its own resources to uncovering new instances of fraud. Hagens Berman has also taken on other automakers on behalf of consumers throughout the United States for safety defects and negligence, and your claim will be handled by attorneys experienced in automotive consumer law.
NO COST TO YOU
There is no cost or fee whatsoever involved in joining this action. In the event Hagens Berman or any other firm obtains a settlement that provides benefits to class members, the court will decide a reasonable fee to be awarded to the class' legal team. In no case will any class member ever be asked to pay any out-of-pocket sum.
CASE TIMELINE
On Aug. 16, 2019, Hagens Berman filed an additional complaint against Ford. The firm now represents Ford F-150 and Ranger owners from 24 states.