Case Initial Text 1
Do you use an Evenflo Big Kid booster seat?
Tests show Evenflo's Big Kid child car seat can put your child in danger during a car crash. You could receive repayment for this faulty product. Fill out the form »
Court
U.S. District Court for the District of Massachusetts
Case Number
1:20-cv-10336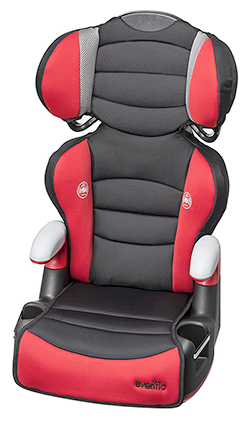 Hagens Berman has been appointed to co-lead a class-action lawsuit pertaining to a dangerous and defective line of child booster seats sold by Evenflo. Testing shows Evenflo's Big Kid car seats place children weighing less than 40 pounds at grave risk of injury in the event of a car crash, especially side-impact collisions. We believe parents, grandparents and guardians nationwide deserve compensation for their purchase of a product that does not perform as sold, and places children in danger.
Evenflo sells its Big Kid booster seat as safe for kids that weigh less than 40 pounds and as "side impact tested." What Evenflo does not tell consumers is that its own tests showed a child seated in its booster could be in danger in such a crash.
Evenflo chooses to deceive the public and its consumers in an effort to outsell its competition.
EVENFLO BIG KID BOOSTER SEAT RISKS EXPLAINED
A recent news investigation found that Evenflo's low weight recommendation for its Big Kid booster, a top-selling booster seat in the United States, is indicative of its having "repeatedly made decisions that resulted in putting children at risk."
"The company's tests show that when child-sized crash dummies seated in Big Kid boosters were subjected to the forces of a T-bone collision, they were thrown far out of their shoulder belts. Evenflo's top booster seat engineer would later admit in a deposition if real children moved that way, they could suffer catastrophic head, neck and spinal injuries — or die," the investigation found.
EVENFLO IGNORED SAFETY TESTING
In 2008, Evenflo launched a new Big Kid model with so-called "side wings," which (according to internal documents) it hoped would "increase perceived side protection." Subsequent marketing materials Evenflo sent Walmart, Target and Babies R Us emphasized in large bold letters that the top feature of the new Big Kid was that it was "Side Impact Tested."
"Knowing that one in four automobile accidents are side impact collisions, we believe it's important to go beyond the current government standards when designing the next generation of Evenflo car seats, including the Big Kid LX," one marketing pitch read.
To safety-minded parents, Evenflo, one of the nation's largest sellers of children's booster seats, presented its tests as tough, going above and beyond what the government required. That was misleading. One of the federal government's tests simulates a side-impact crash by having a 3,015-pound barrier moving at 38.5 miles per hour smash into a vehicle. Another federal test involves a car pulled sideways at 20 miles per hour into a stationary pole. The Evenflo side-impact tests, by contrast, were conducted on a bench resembling a vehicle's seat that moves at 20 miles per hour and is suddenly decelerated. It has no barrier smashing into the bench and no pole.
YOUR CONSUMER RIGHTS
Hagens Berman seeks reimbursement for those who purchased Evenflo's Big Kid booster car seat. Parents, grandparents and guardians across the nation purchased these car seats under the assumption that they were safe and would protect children in a side-impact car crash, but these dangerously designed and faulty products do no such thing. Our firm believes that consumers deserve compensation for the risk and danger Evenflo exposed them to.
TOP PLAINTIFFS' RIGHTS FIRM
Hagens Berman is one of the most successful consumer litigation law firms in the U.S. and has achieved more than $260 billion in settlements for consumers in lawsuits against product manufacturers, food corporations, automakers, big banks and others. Your claim will be handled by experts in national consumer rights law.
NO COST TO YOU
There is no cost or fee whatsoever involved in joining this action. In the event Hagens Berman or any other firm obtains a settlement that provides benefits to class members, the court will decide a reasonable fee to be awarded to the class' legal team. In no case will any class member ever be asked to pay any out-of-pocket sum.