If you invested in Advance Auto Parts and have substantial losses, or have knowledge that may assist the firm's investigation, submit your losses »
CLASS PERIOD
11/16/2022 - 05/30/2023
LEAD PLAINTIFF DEADLINE
12/08/2023
RELATED DOCUMENTS
Complaint 10/09/23
The complaint alleges that defendants made false and misleading statements and failed to disclose that Advance Auto Parts: 1) misrepresented the efficacy of AAP's strategic pricing initiative and the impact of price reductions; 2) omitted and/or concealed the negative impacts of the pricing initiative; 3) provided investors with an overly optimistic perception of AAP's operations; and 4) created the false impression that inflation and macroeconomic factors had an insubstantial impact on the Company's margins.
The truth emerged on May 31, 2023, when the company announced disappointing Q1 2023 financial results. While management had guided for operating margin improvements in 2023, management revealed that in Q1 the company's operating margin shrank to 2.6%, whereas it had an operating margin of 6% in the prior-year period. Management blamed the poor profitability on the strategic pricing program.
In addition, Advance Auto Parts provided a dim outlook, particularly with respect to the Company's anticipated earnings per share ("EPS"). Previously, management expected full-year EPS of $10.20 to $11.20. But with diminished sales and a strained operating margin, management revealed it now anticipates EPS of only $6.00 to $6.50.
Moreover, with profits falling, the company cut its quarterly dividend by 83% from $1.50 quarterly to $0.25.
On this news, Advance Auto Parts' stock dropped $39.31 per share, or 35% in a single trading day.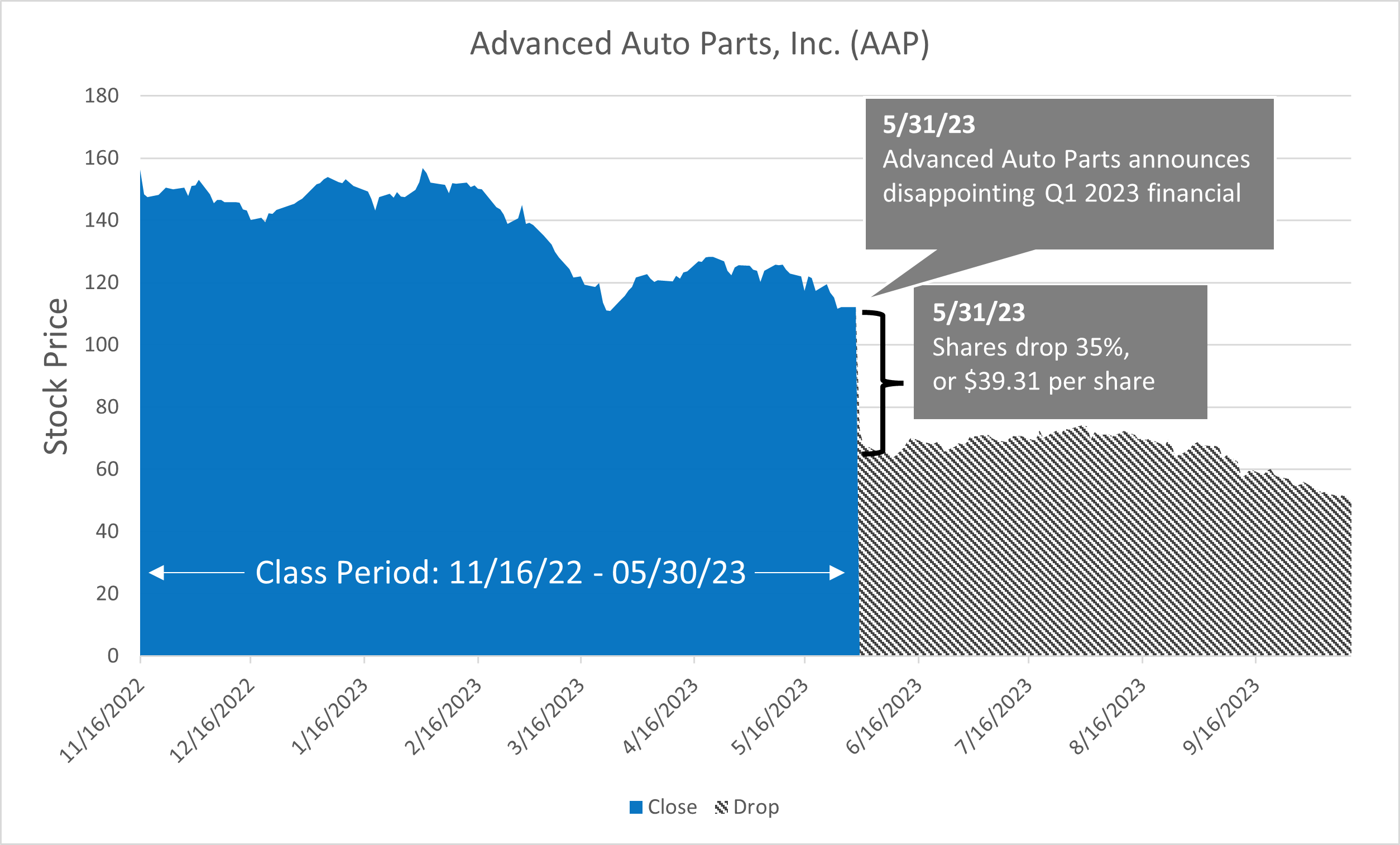 If you invested in Advance Auto Parts and have significant losses, or have knowledge that may assist the firm's investigation, submit your losses.
Whistleblowers: Persons with non-public information regarding Advance Auto Parts should consider their options to help in the investigation or take advantage of the SEC Whistleblower program. Under the new program, whistleblowers who provide original information may receive rewards totaling up to 30 percent of any successful recovery made by the SEC. For more information, contact Reed Kathrein at 844-916-0895 or AAP@hbsslaw.com.
FREQUENTLY ASKED QUESTIONS ABOUT THE CASE
WHAT SHOULD I DO?
AM I ELIGIBLE?
CAN I PARTICPATE?