If you invested in dLocal and have substantial losses, or have knowledge that may assist the firm's investigation, submit your losses »
CLASS PERIOD
05/02/2022 - 05/25/2023
LEAD PLAINTIFF DEADLINE
12/05/2023
RELATED DOCUMENTS
Complaint 10/06/23
The complaint alleges that DLocal made false and misleading statements and failed to disclose that: (1) it engaged in certain improper conduct and transfers abroad in violation of Argentine laws, including foreign exchange regulations; (2) its compliance controls and procedures, including disclosure controls and procedures and internal controls over financial reporting, were deficient; and (3) the foregoing subjected the company to a heightened risk of government scrutiny in Argentina.
Investors began to learn the truth on May 26, 2023, when Argentine news outlet Infobae reported that the Argentine government was investigating DLocal for a possible $400 million fraud, for "improper maneuvers" and transfers abroad. Infobae cited unnamed government sources who reportedly alleged that the company "operates as a mere instrument to take advantage of the exchange rate gap and to take dollars abroad with operations that are not reflected in the accounting[]" and others who indicated that Argentine customs authorities were evaluating whether to notify the U.S. SEC and Treasury.
In response to this news, the price of DLocal shares fell $2.39, or about 17%, on May 26, 2023.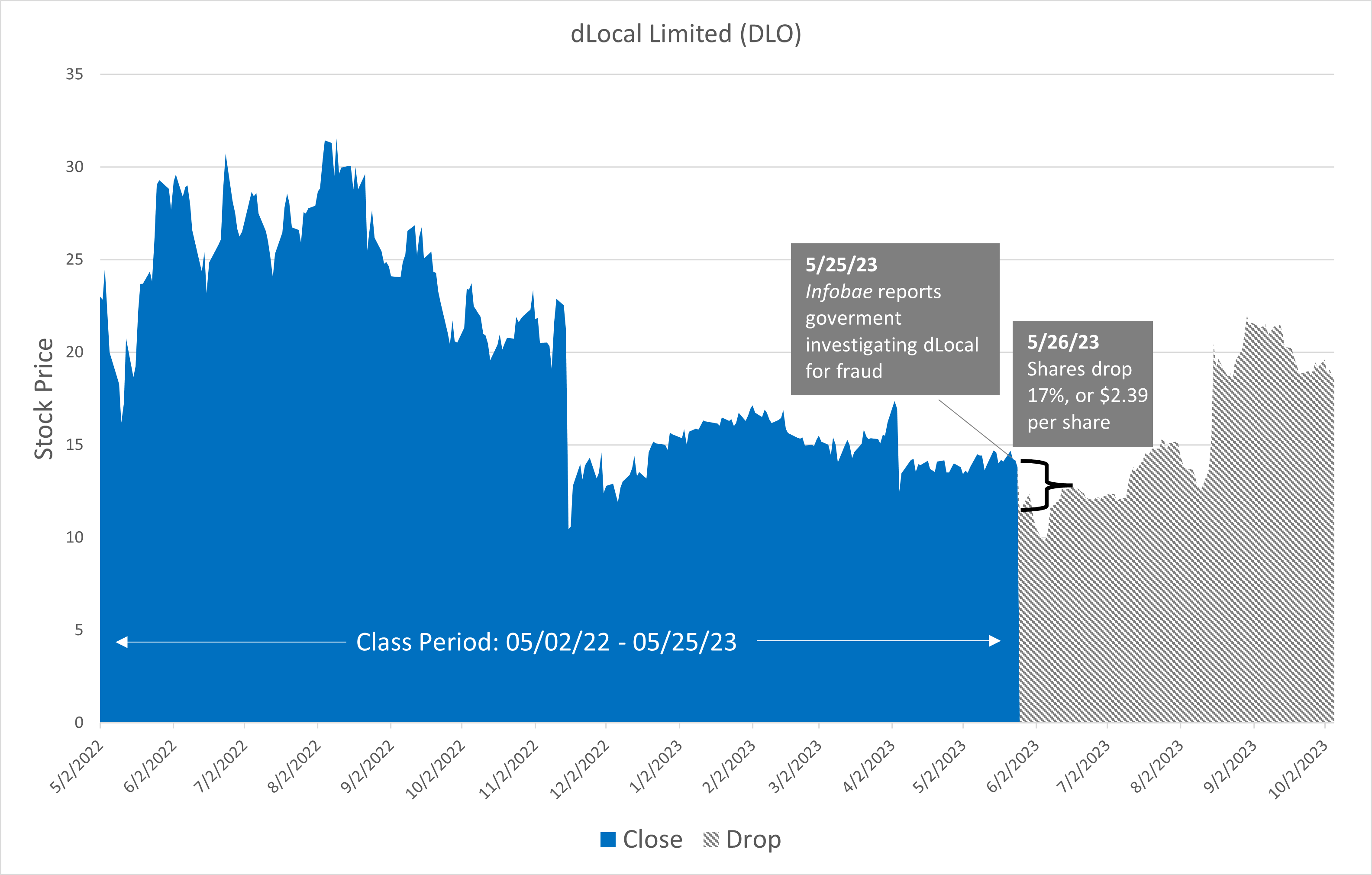 Then, on June 5, 2023, DLocal revealed that it received a request for information from the Argentine customs authorities and an Argentine prosecutor filed a petition for inquiry in response to the May Infobae article.
More recently, on June 15, 2023, DLocal revealed that it was engaging senior representatives of the Argentine government regarding, among other things, the company's compliance with foreign exchange regulations.
If you invested in DLocal and have significant losses, or have knowledge that may assist the firm's investigation, submit your losses.
Whistleblowers: Persons with non-public information regarding DLocal should consider their options to help in the investigation or take advantage of the SEC Whistleblower program. Under the new program, whistleblowers who provide original information may receive rewards totaling up to 30 percent of any successful recovery made by the SEC. For more information, contact Reed Kathrein at 844-916-0895 or DLO@hbsslaw.com.
FREQUENTLY ASKED QUESTIONS ABOUT THE CASE
WHAT SHOULD I DO?
AM I ELIGIBLE?
CAN I PARTICPATE?