Case Initial Text 1
WHY ARE EBIX INVESTORS SUING EBIX?
Ebix investors may have significant financial interest in a class-action lawsuit regarding Ebix's fraudulent accounting. Find out your rights »
Case Status
Investor Fraud Investigation
Case Caption
Teifke v. Ebix, Inc.
Court
U.S. District Court for the Southern District of New York
Case Number
1:21-cv-01589
Defendant(S)
Ebix, Inc.
Robin Raina
Steven M. Hamil
Stock Symbol
NASDAQ: EBIX
Hagens Berman seeks to lead a federal securities class-action lawsuit on behalf of all investors who purchased shares of EBIX, Inc. ("Ebix" or the "Company") securities between Nov. 9, 2020 and Feb. 19, 2021, inclusive (the "Class Period').  The lawsuit centers on Ebix's faulty accounting.  The deadline for investors to seek appointment as lead plaintiff is April 23, 2021.
ABOUT THE EBIX INVESTOR LAWSUIT
Ebix is a supplier of infrastructure exchanges to the insurance, financial, travel, cash remittances, and healthcare industries.  In past quarters, Ebix has touted the rapid growth of its gift card business in India. Revenues from the gift card business grew 95% from the third quarter to the fourth quarter of 2020.
The complaint alleges that Defendants concealed that: (1) there was insufficient audit evidence to determine the business purpose of certain significant unusual transactions in Ebix's gift card business in India during 4Q 2020; (2) that there was a material weakness in Company's internal controls over the gift or prepaid revenue transaction cycle; and (3) that the Company's independent auditor, RSM, was reasonably likely to resign over disagreements with Ebix regarding $30 million that had been transferred into a commingled trust account of Ebix's outside legal counsel.
Investors began to learn the truth on Feb. 19, 2021 when RSM abruptly resigned, stating that "despite repeated inquiries" RSM was unable to obtain sufficient audit evidence to "evaluate the business purpose of significant unusual transactions that occurred in the fourth quarter of 2020, including whether such transactions have been properly accounted for and disclosed in the financial statements subject to the Audit."  These "unusual transactions" concerned the Company's gift card business in India.
In addition, RSM and Ebix reportedly disagreed over whether $30 million transferred to a comingled trust account of Ebix's outside counsel should still be classified as cash on Ebix's balance sheet, even though those funds were outside Ebix's direct control.
On this news, the Company's share price fell as much as $20.24, or 40%, in a single trading day.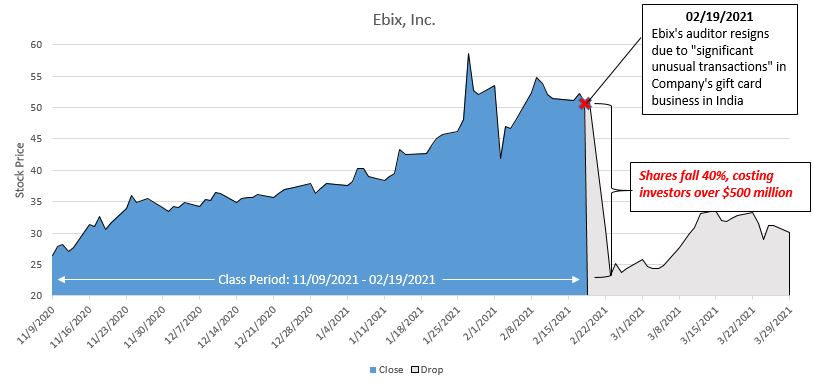 Thereafter, on Mar. 8, 2021, Ebix announced it has retained KG Somani & Co. as its new auditor, that it would not file its annual report until Apr. 2021, and that Board-appointed consultants and outside legal counsel are continuing "to evaluate the payment solutions business."
Most recently, on Mar. 11, 2021, the Company received a noncompliance letter from Nasdaq for failing to timely file its 10-K, demanding that Ebix submit a plan to regain compliance with Nasdaq's rules by Apr. 16.
Investors who purchased EBIX shares during the Class Period and have questions about your legal rights or possess information relevant to this matter, are encouraged to contact Hagens Berman attorneys at 844-916-0895, via email at [email protected].
Case Timeline
Title
Lead Plaintiff Deadline