If you invested in NSSC and have substantial losses, or have knowledge that may assist the firm's investigation, submit your losses »
CLASS PERIOD
11/07/2022 - 08/18/2023
LEAD PLAINTIFF DEADLINE
10/30/2023
RELATED DOCUMENTS
Complaint 08/29/23
The complaint alleges that Defendants made false and misleading statements and failed to disclose Napco: (1) had not addressed material weaknesses in internal controls over its financial reporting of its cost of goods sold ("COGS") and inventory; (2) downplayed the severity of material weaknesses regarding its internal controls; (3) overstated inventory and understated COGS from Sept. 30, 2022 to the present; and (4) would need to restate certain of its previously filed unaudited financial statements.
The truth emerged on Aug. 18, 2023, when the company announced that investors should no longer rely on its previously filed financial statements covering the quarters ended Sept. 30 and Dec. 31, 2022 and the quarter ended Mar. 31, 2023. The company also said that it would restate those financial statements, admitting to its improper calculation of cost of goods sold and inventory.
In addition, Napco estimated that: (1) its net income for the quarter ended Sept. 30, 2022 was overstated by 120%; (2) its net income for the quarter ended Dec. 31, 2022 was overstated by 127%; and (3) its net income for the quarter ended Mar. 31, 2023 was overstated by 13%.
This news was followed by a wave of analyst downgrades and drove the price of Napco shares crashing lower.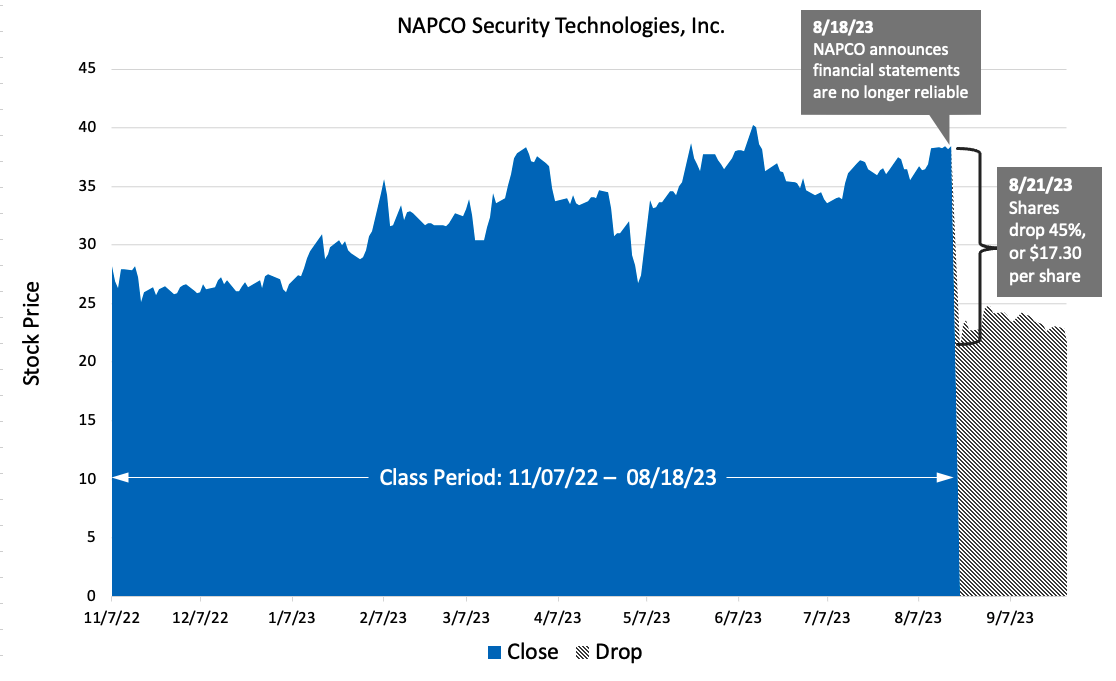 If you invested in Napco Security Technologies and have substantial losses, or have knowledge that may assist the firm's investigation, click here to discuss your legal rights with Hagens Berman.
Whistleblowers: Persons with non-public information regarding Napco Security Technologies should consider their options to help in the investigation or take advantage of the SEC Whistleblower program. Under the new program, whistleblowers who provide original information may receive rewards totaling up to 30 percent of any successful recovery made by the SEC. For more information, call Reed Kathrein at 844-916-0895 or email NSSC@hbsslaw.com.
FREQUENTLY ASKED QUESTIONS ABOUT THE CASE
WHAT SHOULD I DO?
AM I ELIGIBLE?
CAN I PARTICPATE?