If you invested in PureCycle and have substantial losses, or have knowledge that may assist the firm's investigation, submit your losses »
CLASS PERIOD
08/08/2023 - 09/13/2023
LEAD PLAINTIFF DEADLINE
11/28/2023
RELATED DOCUMENTS
Complaint 09/29/23
The litigation focuses on PureCycle's disclosures about the operation of its first commercial-scale recycled pellet production facility in Lawrence County, Ohio (the "Ironton facility").
More specifically, during Aug. 8 – Aug. 9, 2023, PureCycle assured investors that "the commissioning of Ironton is progressing well," "Ironton is operational" and "Ironton is running and raising production rates every day."
The complaint alleges that PureCycle made false and misleading statements and failed to disclose that: (1) the Ironton facility experienced a full plant power outage on Aug. 7, 2023; and (2) there was a risk of additional failures from the outage.
Investors learned the truth on Sept. 13, 2023, when PureCycle disclosed the Aug. 7 power outage.  The company revealed that the outage necessitated a halt to its Ironton operations and required the replacement of a seal that failed due to the outage.  The company also revealed that it initiated restart procedures on Sept. 11, 2023.
This news sent the price of PureCycle shares sharply lower on Sept. 14, 2023.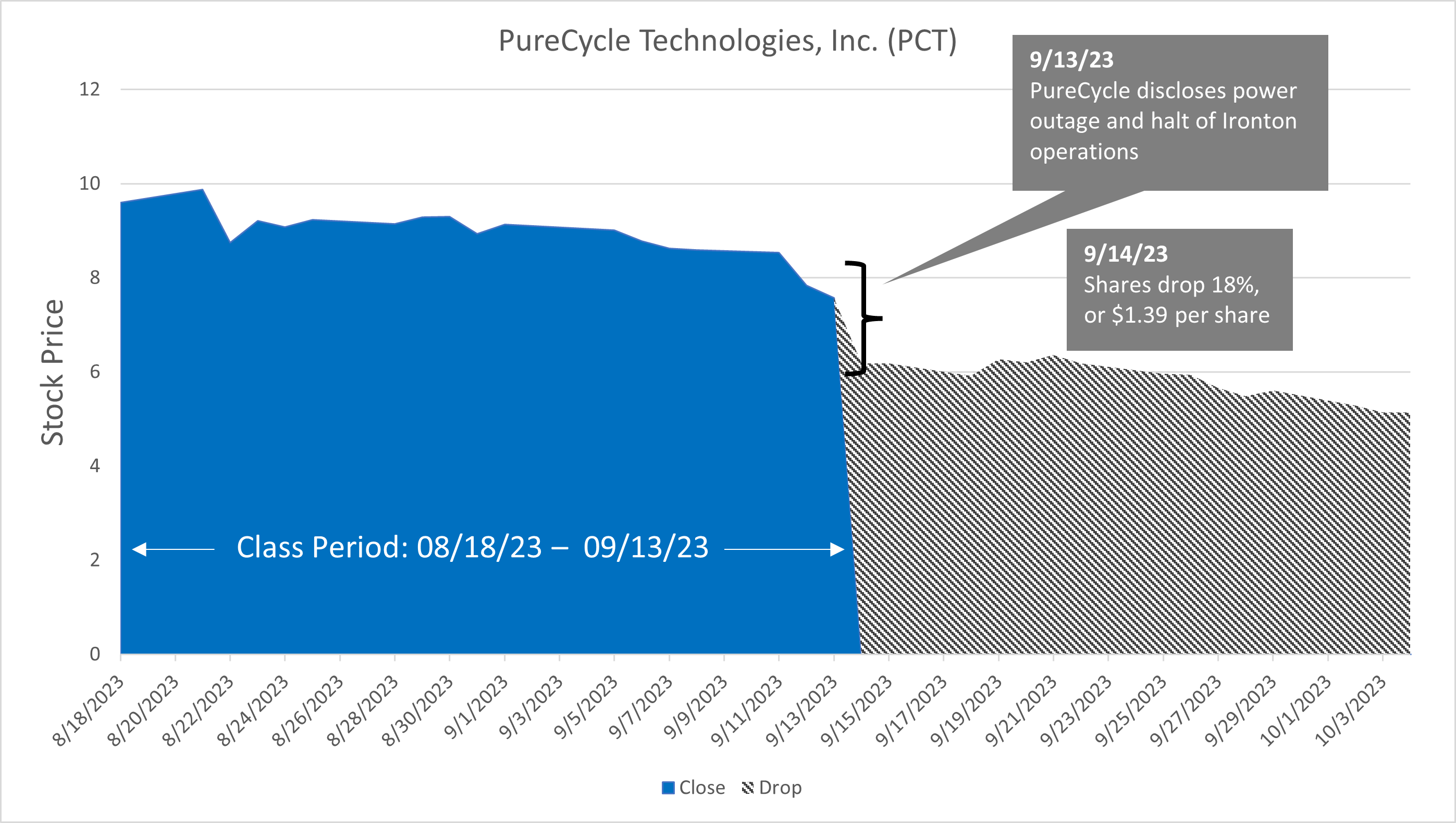 If you invested in PureCycle and have substantial losses, or have knowledge that may assist the firm's investigation, submit your losses.
FREQUENTLY ASKED QUESTIONS ABOUT THE CASE
WHAT SHOULD I DO?
AM I ELIGIBLE?
CAN I PARTICPATE?