Hagens Berman built its reputation on its dedication and tenacity in class-action law, willing to put in the resources and time to bring impactful, groundbreaking settlement to class members on a massive scale.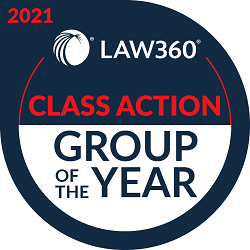 When the words "class-action lawsuit" get tossed around, consumers are often met with an image of a check in the mail for pennies, if they ever expect to receive a share at all. Class cases have been plagued by a rash of do-nothing settlements that serve only to keep the lawyers behind them in business, returning nothing to class members who have been wronged, and allowing wrongdoers to continue unlawful conduct.
Hagens Berman has pledged its purpose to carrying out class-action lawsuits in the manner they were intended: functional, impactful and restorative.
In the wake of dime-a-dozen class actions in today's increasingly litigious atmosphere, these cases have received a bad reputation, and indeed our attorneys stand with the growing consensus of consumers that class actions brought in this manner serve no good.
Our class-action attorneys work to rewrite this notion, and our clients agree: "I never believed in class action lawsuits before but thanks to the great job by Hagens Berman, I have newfound respect for the results that can be achieved for consumers." Those are the unsolicited words of Judy, a San Diego class member who benefitted from Hagens Berman's class action dedication.
The media too has noted our ever-growing track record, calling Hagens Berman "one of the preeminent class action firms in the U.S.," (Bloomberg News).
WHAT ARE CLASS-ACTION LAWSUITS?
When done right, class-action lawsuits can provide sweeping justice to classes of millions of individuals, force corporations to take responsibility, spur accountability projects and research and bring brighter futures through systemic change. Hagens Berman remains committed to making class-action law work and to pioneering groundbreaking class action litigation.
Class actions can apply to many areas, and Hagens Berman has been a pioneer in finding novel applications of class actions. The firm has applied class-action law to issues involving environmental preservation, sexual abuse, negligence, slave labor, discrimination, sports safety, animal welfare, food safety, housing and lending crises and more. The firm has even used class actions to bring Holocaust survivors and their families back in touch with their family heirlooms and belongings wrongly confiscated by the U.S. government during World War II.
WHAT CAN A CLASS ACTION LAWSUIT DO?
Class actions can get a lot done. No other kind of lawsuit has the ability to serve as many people and remedy a widespread wrong as a class action can. Resulting court orders can provide benefits and financial compensation to millions of individuals, and future generations may too reap the rewards to come through updated corporate standards and protocols. The sheer scale of class-action lawsuits make them appealing. Our firm has always been dedicated to bringing forth positive change, and in a class action, we can reach many.
Class actions can change the way corporations do business and have meaningful impacts for generations. Hagens Berman's class-action cases focus particularly on the future. We believe in bringing current payback to those harmed, but we also seek to stop the wrongdoing in the future. The firm's cases have shaped and formed protocols involving safety and compensation within the NCAA, developed medical monitoring programs in various spaces, ended unethical programs that led to the slaughter of hundreds of thousands of dairy cattle, bolstered sports safety in national soccer organizations, spurred research into vehicle safety and forced utility companies to update their safety standards to avoid a repeated catastrophic explosion.
A LEADER IN CLASS-ACTION LITIGATION RESULTS
When tenacious law firms are willing and able to dedicate the necessary time, resources, and expertise, class actions can return large sums, and class members can see big returns for their losses.
Owners of Volkswagen vehicles affected by the Dieselgate emissions-cheating scandal received compensation between $5,100 and $10,000 based on the car's pre-scandal value, and dealerships owners were paid on average $1.85 million. In the firm's case against Toyota for a defect causing unintended acceleration, class members received a payment between $125 and $6,000, depending upon the characteristics of the vehicle owned. In the firm's e-books antitrust case, consumers received twice their losses due to putative measures in the case against Apple and five of the nation's largest publishing companies. In two cases against the NCAA, players featured in the popular Electronic Arts NCAA video game series received a median $1,100 settlement payment, and student-athletes who were class members in the firm's scholarship rights case saw an average $5,000 to $7,500 check after the end of the litigation.